Last week, I had the great pleasure of attending the Rise Conference in Hong Kong.
The Rise Conference is a 3 day event, held between July 8-11 at the Exhibition Centre in Hong Kong. It brings together entrepreneurs, startups, investors and the press all under one roof so to speak.
This year, the line up was quite impressive with 350 speakers, over 16,000 attendees from 100 countries making it the biggest startup event of the year in Asia!
There were some big names attending the event such as Tony Fernandes, the CEO of Air Asia; Elie Seidman, CEO of Tinder; Thuan Pham; CTO of Uber among many others. Way too many to list them all!
A Global From Asia Team Member
I love attending these kinds of events and I've attended a few but this was a first experience attending such an event as part of a Media Team. My good friend, Michael Michelini, from globalfromasia.com, a platform for Cross Border E-commerce, had kindly invited me to attend this event as part of his team.
Lucian, Me and Mike, from left to right wearing our beautiful GFA Tshirt!
There were a few of us as part of the Global From Asia team: my friend Lucian, Francisco, a journalist from the US as well as Ivy, a good friend of Mike. So the 4 of us, got in on the Tuesday morning with our official Global From Asia tshirts, we got our media pass and off we were inside the venue.
Day 1 of the Rise Conference 2019
The first thing that comes to mind as soon as you enter inside the Exhibition centre in Hong Kong where the event was held, was how big this is! Reminded me of the Canton Fair in Guangzhou, China or Global Sources in Hong Kong by the sheer size of it and how many stands and people were there!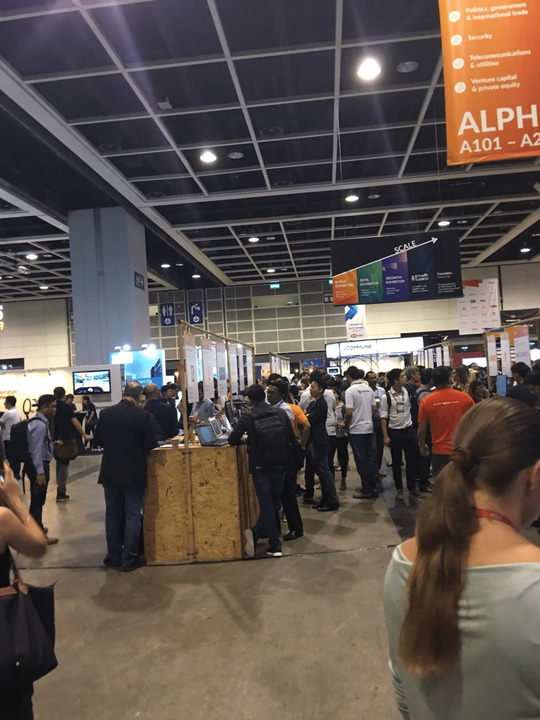 One of the first things we did once inside, was to do a Facebook Live walking around the Conference, giving people a taste of how big this event is! It was a lot of fun going around while filming and streaming live on Facebook. Along the way, we met a few people who said Hi live to us. Mike was greeted by a couple of people that he knows. We went around for a good 10 minutes or so streaming live. It was a lot of fun! The video is available on the Global from Asia Facebook page.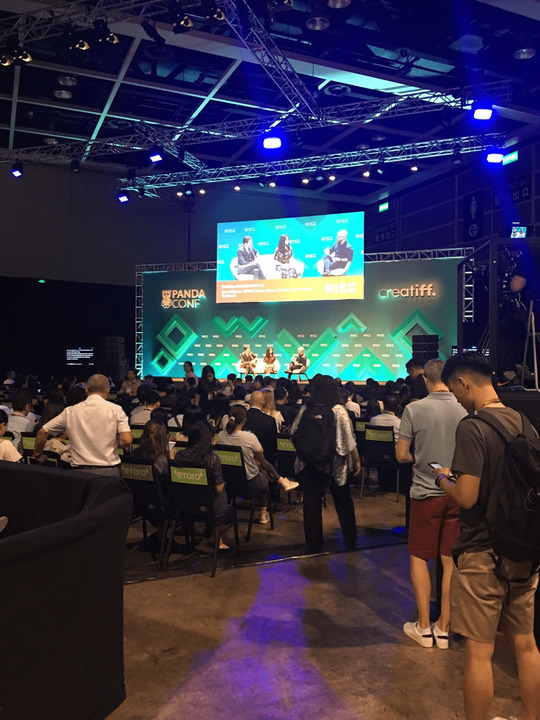 Finding awesome people to talk to wasn't hard at all! With so many attendees from around the world, all of them being entrepreneurs at various stages of their business, it was more a matter of who to talk to first than who to talk to!
Day 2 of the Rise Conference 2019
The second day, as soon as I got into the conference, I went to the Media section where Elie Seidman, Tinder's CEO was about to start his press conference. I felt lucky so I proceeded to get myself situated as close as possible to the stage and started covering that on a Facebook Live. Mr. Seidman talked about Tinder's evolution and ever increasing role in the world. He also announced the launching of Tinder Light, targeting the developing countries, starting first with South East Asia and particularly in Vietnam where it will be launched in the near future.
Tinder Light, will allow people in the developing countries, where access to fancy smartphones with lots of storage and where data plans are not easily accessible to most people to get on the dating app using a lighter version of the app.
It's really amazing being among all these startups, entrepreneurs all doing great things and changing their industries and impacting their environment in a positive way.
I'll briefly mention some of the ones that really caught my attention as an E-commerce guy.
wowbid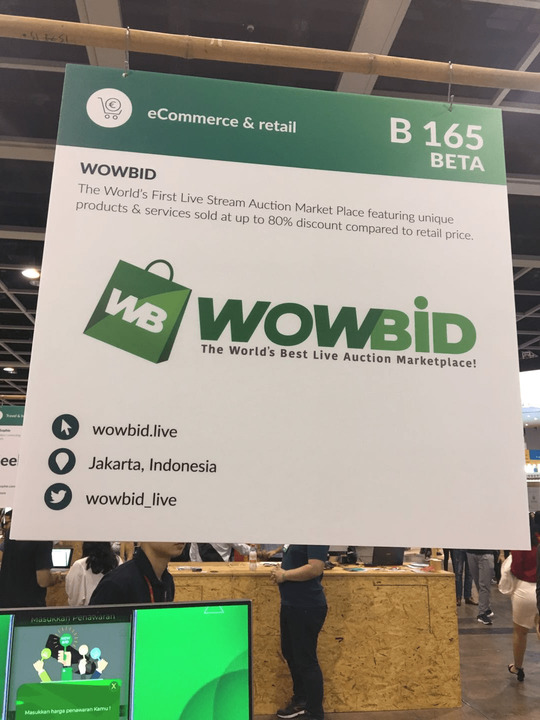 Wowbid is a start up from Indonesia which allows entrepreneurs to showcase and sell their products through a live streaming on their platforms in the Indonesian burgeoning E-Commerce market. The cool thing is that when your product targets men, you'll have a male model/sales person promoting your product and when your product is targeting females, you'll have a female model/sales person promoting your product live.
Day 3 of the Rise Conference 2019
The third and final day of the event was my favorite as I got to interview some truly amazing people!
What follows are some of those I've met and encountered. Grateful to have most of them grant my request for an interview.
Sonos.Tech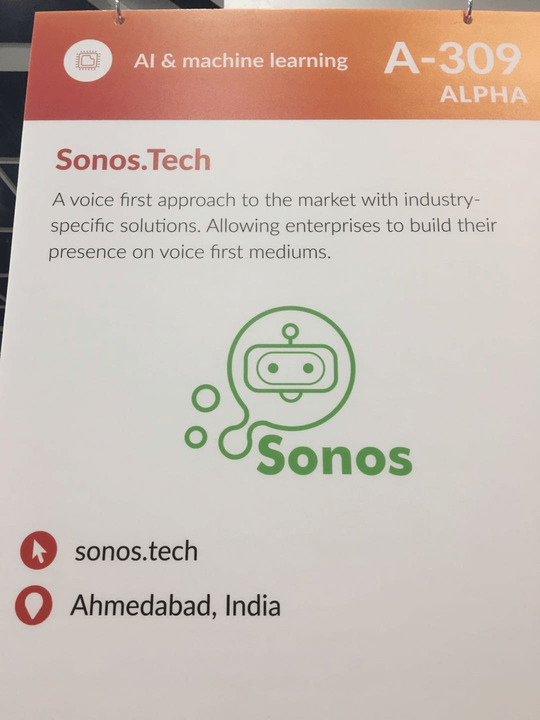 First, I got to meet Ankit, the Founder and CEO of Sonos.Tech, a start up out of India which helps businesses to build their presence with on voice mediums. It was very interesting to talk with him as what they are doing is getting into the Alexa, Spotify and other similar mediums and allowing business owners to have their message about their product and or service be broadcast/advertised on those mediums. Since most people are slowly transitioning from traditional radio shows to podcasts and other similar mediums, that opens up a new avenue to advertise one's products/services.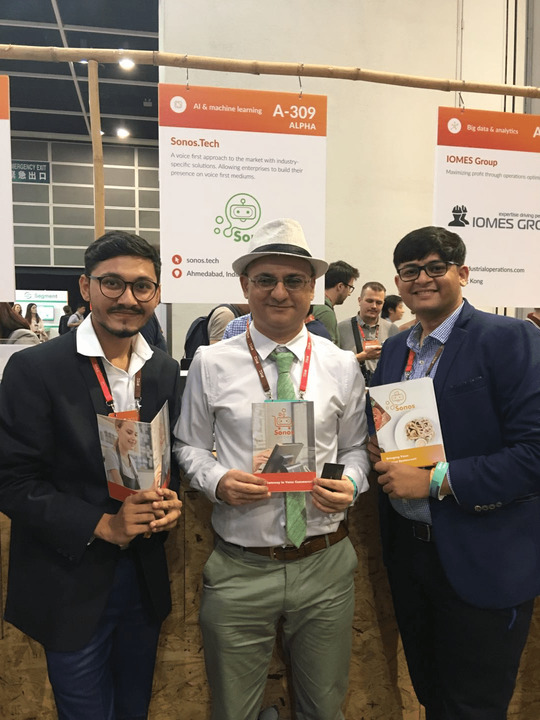 Picture with Ankit, the CEO and Founder of Sonos.Tech and his CMO. I also did a video interview with Ankit, which I have posted on the Global From Asia Facebook page.
After finishing the interview with Ankit, which was quite informative and enjoyable, I went back to the floor talking to as many equally awesome entrepreneurs and start ups as I possibly could.
Since I am mostly interested in E-Commerce, I was mainly looking for E-Commerce-related startups.
While roaming through the aisles, I noticed this sign that caught my attention:
shoppy.mn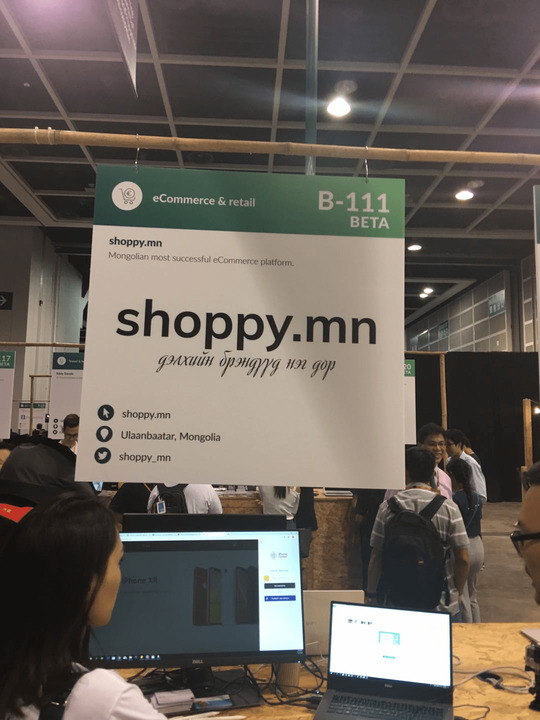 I stopped and started talking with the team there. I started chatting with Mr. Sandag, the CTO of shoppy.mn, the most successful E-Commerce platform in Mongolia. After a few minutes of chatting with him, he introduced me to his CEO and founder of the company, Mr. Mandee.
While I was trying to get Mr. Mandee to do an interview for Global From Asia, before I even had a chance of asking, he asked me if they could interview me! I wasn't expecting this so I asked him to clarify what he meant and to interview me for what and on what. He replied that the interview will be aired on Bloomberg Business in Mongolia at the beginning of August!
Needless to say, I couldn't believe this and asked him on what the interview will be about and he said about E-Commerce and business in general. I was delighted for this opportunity and accepted to do it.
Within minutes, he and his team started the interview right there and then by their booth!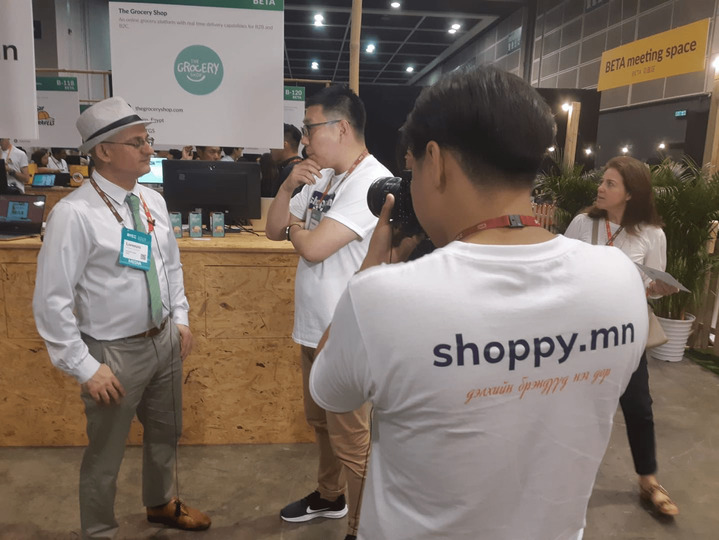 The interview went for about 10-15 minutes and it was a very enjoyable chat. I am very much looking forward to seeing this interview on Bloomberg Business Mongolia! This is the magic of events, especially in Hong Kong where you meet incredible people and are presented with unexpected opportunities.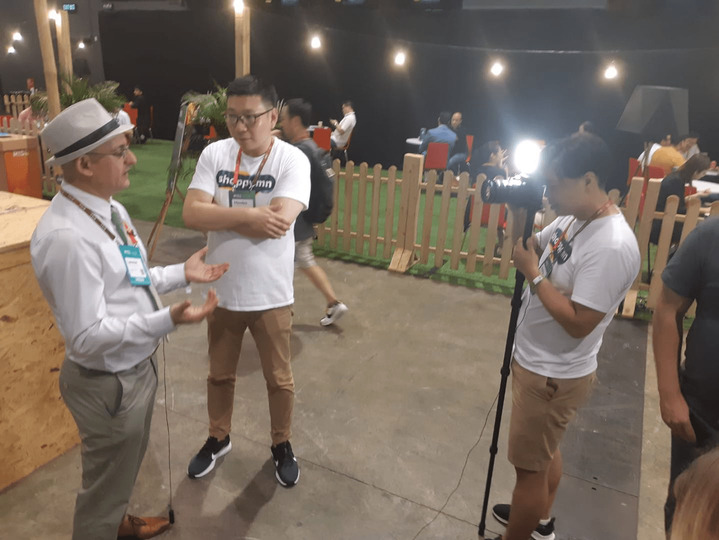 Global From Asia interviews shoppy.mn
After finishing the interview for Bloomberg, I invited Mr. Mandee and his team to do the interview for GFA in the Media area. Since they had a professional camera crew, I kindly asked him if we could have our interview done by his crew using their professional equipment. He kindly and generously agreed and within a few minutes, we were settled and ready to start!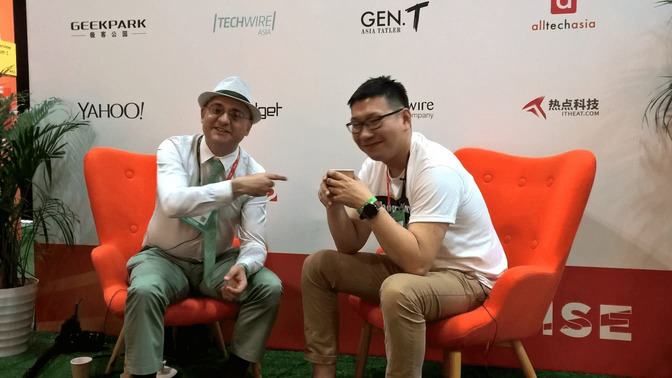 Our interview lasted about 10-15 minutes of very enjoyable chat with Mr. Mandee where he talked more about his company and how the platform they've created has been not only changing the E-Commerce scene in Mongolia, but it has also opened it up for non-locals to sell their products in that market. Mr. Mandee said he will have his TV crew edit and send me the video of our interviews in the next few days and I am anxiously awaiting to receive them. Once I do, I'll post them on the GFA Facebook Page and will keep you guys posted.
After this incredible experience of getting interviewed by a professional TV crew where the interview will air on Bloomberg Business Mongolia in a few weeks, I had to regain my composure and hit the floor again, looking for the next awesome start up to interview.
inCart
This is where my attention got peaked by a startup from Thailand, called inCart, which helps retail businesses to create a unique and prestigious E-Commerce website in a few clicks.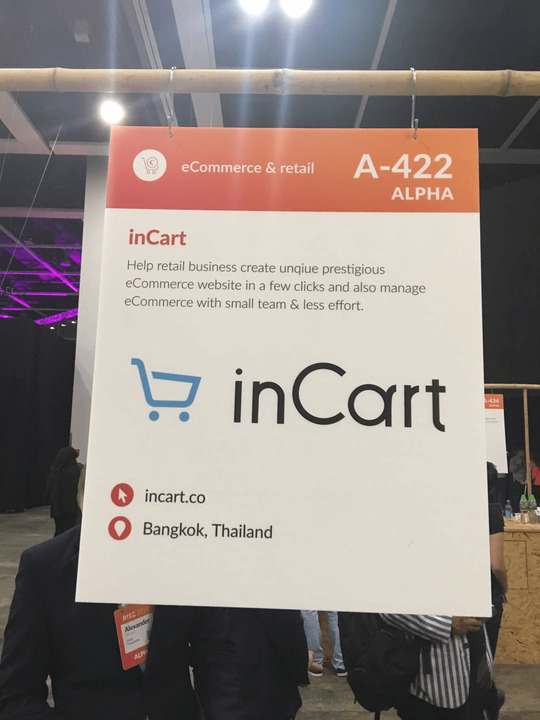 After a couple minutes of chatting with the team, I invited Mr. Peeranat, to the Media area in order to interview him. He kindly obliged and we had a very enjoyable chat for a few minutes where he went on to tell us more about what his company does and how it's slowly changing the E-Commerce scene in Thailand. The interview has been posted on the GFA Facebook page.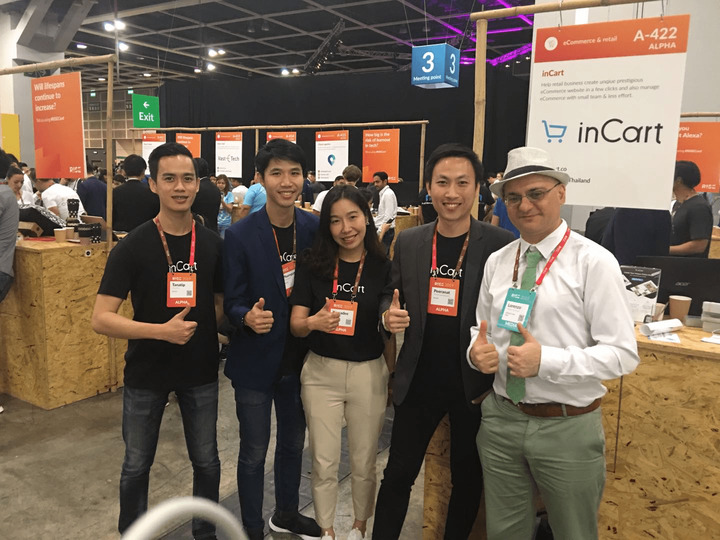 The full InCart team, with Mr. Peeranat, the CEO and Founder of the company to my right.
eRomman Marketplace
After that very interesting chat with Mr. Peeranat, I went around the floor talking to as many awesome startups as I could. Too many to list, however, the one that is of utmost interest to GFA readers as E-commerce people, is a startup from Malaysia, called eRomman Marketplace.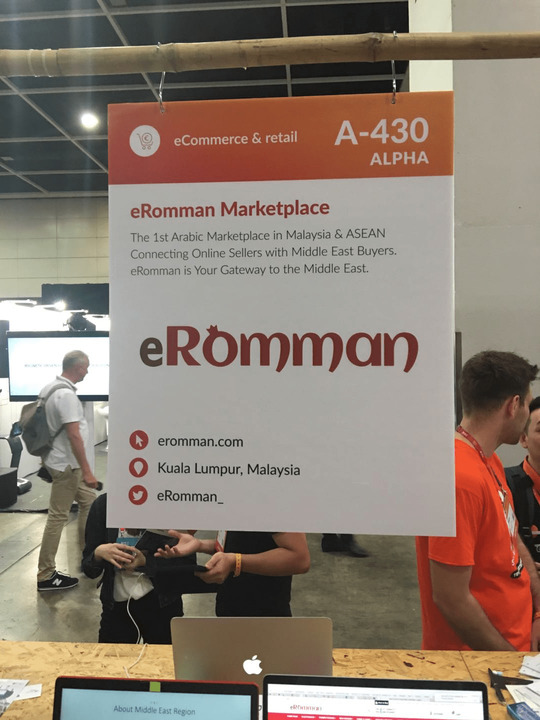 I would have LOVED to invite them for an interview, however, I couldn't find anyone from that startup in and around their booth. I was told they had already left! To which I was very sad to hear that!
If anyone of the GFA readers has any connection to that startup, please let us know as they'd be an amazing fit for a video and/or podcast!
GlobalKart
Despite being disappointed that I couldn't interview anyone from eRomman, I kept going around the floor looking for a great E-commerce startup. I was lucky as not far from where the Malaysian startup was located, I found a startup from India, called GlobalKart.
They are a startup that helps foreigners get their products into the massive Indian market. They take care of everything as they offer a one stop solution encompassing, branding, marketing, distribution, logistics etc. I was glad I found them and I didn't take long to invite them for an interview in the Media area. Since it was the end of the day and they were packing, I was happy that not only the CEO but the entire team joined me for an interview!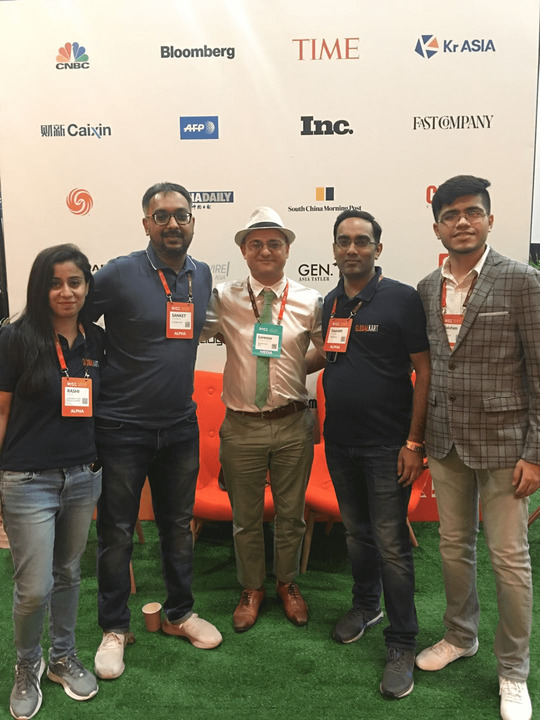 With the entire team from GlobalKart. We had a very enjoyable and quite detailed chat where everyone from the team participated and explained not only what their company does, how they can help entrepreneurs take their products into the Indian market, but also on what the respective role of each of them is.
This wraps up my Rise Conference 2019 experience
It was good timing as when we finished this interview, everyone was leaving. I was able to catch up with a couple of my friends there, Roland, businessman from Hong Kong, CEO and Co-Founder of Qivaro, a very successful supplement company selling into the US market as well as with my friend, Lucian.
We took the obligatory pictures in front of the Rise sign and that concluded 3 amazing days at one of the best conferences I have attended so far in my life. Not only the calibre of people at the conference was very high, but also being part of a Media team made the experience much more enjoyable. And of course, being interviewed for a major business network was truly the icing on the cake of a truly memorable 3 day event!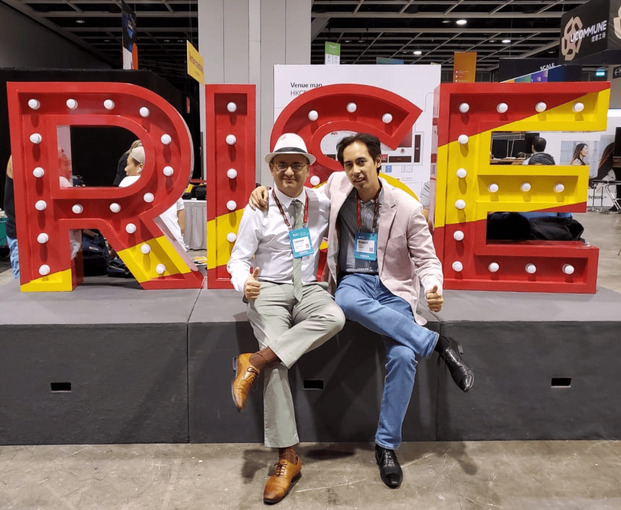 I am already looking forward to next year's Rise in Hong Kong. It's an event that every entrepreneur, startup and investor should attend. The magic in events is the people you meet and at an event like Rise Conference in Hong Kong, it's among the highest in terms of the calibre of people attending. It is not cheap but very well worth it.
It only takes ONE contact, ONE connection to change the course of your business and life. As the saying goes, you're only one connection, one contact away from taking your business and life to the next level. Whatever that next level may be. So invest in yourself and your business.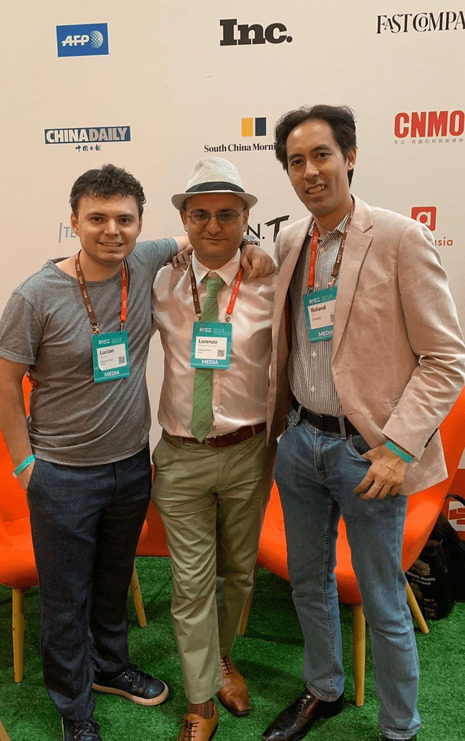 With my friends Lucian and Roland
This has been Lorenzo and I hope you enjoyed reading this.
See you at the Rise Conference next year!